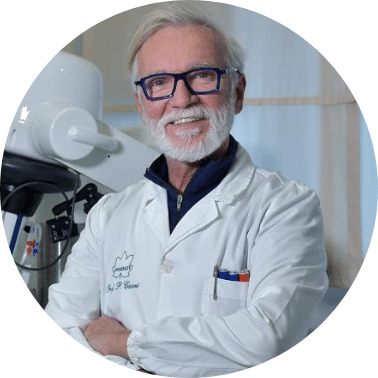 Dr. Paolo Casoni
Sonovein is the only existing possibility to treat a varicose vein from the outside, by ultrasonically aggravating the vein wall without having to enter the vein or remove it. This is sensational because it opens the way to therapeutic possibilities in phlebology that were unthinkable before; I am referring above all to the unique opportunity to combine the preservation of the venous heritage with the targeted intervention, from the outside, of only the refluent points. Conservation and non-invasiveness. This is the future.
Description:
Dr. Paolo Casoni is a consultant in venous surgery and phlebologist, specialising in Vascular Surgery. He was trained at the University of Parma.

Diploma/ academic background:
1983: Degree in Medicine and Surgery, University of Parma
1998: Medical specialisation in vascular surgery, University of Parma

Experience :
1990 – 2006: Researcher in General Surgery, University of Parma.
Since 2003: Director of the Department of Angiology and Phlebology at the Molding Clinic, Marbella (Spain).
Since January 2008: Medical Director at Ippocrate Ltd. Medical Services in Parma.
Since January 2010: Director of the Phlebology and Wound Care Unit, Piccole Figlie Private Hospital, Parma.

Awards/ Distinction:
Author of more than 110 scientific publications.
Has participated, also as a speaker, in numerous national and international congresses.
September 1990: Winner of the position of General Surgeon at the Hospital of Montecchio, General Surgery Unit